Lowell, MA J. Calnan & Associates (JC&A), Northstar Project and Real Estate Services, Packard Design and WB Engineers recently completed the global headquarters for Kronos, one of the world's largest enterprise software companies, generating more than $1 billion in annual revenue with more than 30,000 customers – including half of the Fortune 1000 – using Kronos workforce solutions across more than 100 countries. Kronos recently relocated its headquarters from a three-building campus in Chelmsford – where it called home since 2000 – to its new space, uniting nearly 1,500 Massachusetts-based Kronites under one roof across more than 500,000 s/f.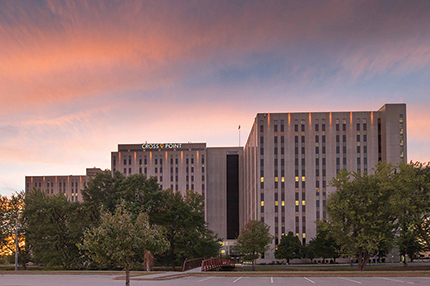 Kronos now occupies 16 floors – including the entire first tower, dubbed the Kronos Tower – in what will total a $68 million renovation of the former home of Wang Laboratories.
Working collaboratively with Kronos, JC&A, Northstar, Packard Design and WB Engineers, created a high-performance workplace of the future to inspire collaboration and innovation with hundreds of meeting rooms and open scrum spaces; technology; separate user experience (UX) and hardware labs; a customer community center; and a 30,000 s/f amenities floor called The Hub, featuring a full-service barista, an IT bar for helpdesk support, an indoor park, library, and gaming area – all overlooking an outdoor Kronos-branded sports court.
Other key partners for this project included: Anchor Line Partners, Delorey Contract Interiors, Environments at Work/Haworth Inc., and Cushman & Wakefield.
"JC&A is tremendously proud to be part of the Kronos story and look forward to watching them flourish in their new home.  This truly was a team effort and we're fortunate to work alongside some of the best partners in the industry," said Stephen Robak, executive vice president/partner, with JC&A.
Vince Devlin, chief procurement officer at Kronos said of the team, "Trust, transparency and a work ethic that put the client first" were the keys to the success of the project.
Aron Ain, CEO, Kronos said of their new global headquarters, "Our new home stands as a symbol of Kronite dedication, ingenuity, innovation, and caring for our customers. Without our terrific team members, none of this is possible. On our 40th anniversary, we officially open the doors to a global headquarters befitting of the Kronos culture, the company we've become, and the inspiring people who call Kronos home."